Introduction of patented endoscope stretcher
This bed can remove the pain felt by patients receiving an endoscopic examination, can lessen the weight for caregivers as much as possible, and can also reduce stress felt by an endoscopist during endoscopic examination or surgery. It is also a stretcher for endoscopes that makes various medical procedures we have wanted to carry out a reality.
After getting International patent PCT application, presenting at the major academic conferences in the United States and Japan2-5), a Japanese patent for this endoscope stretcher was acquired 1). This bed has received international evaluations3), and it has become widespread in facilities equipped with new endoscopic instruments that are attentive for safe, secure, and comfortable endoscopic examination6).
The feature is that it has a lower leg placement stand that rotates and moves up and down on the bed
During colonoscopies, a survey revealed that the posture change required for the patient's foot assembly is done at 97.6%2). Sedative endoscopy to alleviate the pain of patients is not still popular in Japan due to a shortage of assistants who support the patient's unstable foot assembly and lack of observation rooms after examination.
This patented endoscopic stretcher takes on the form of an endoscope bed that alleviates the burden of patients, caregivers, and inspectors1). It is developed in Japan and looks to have become the worldwide standard of bed form for endoscopies6).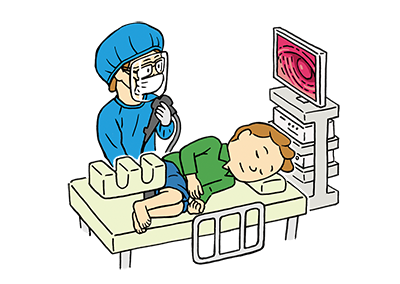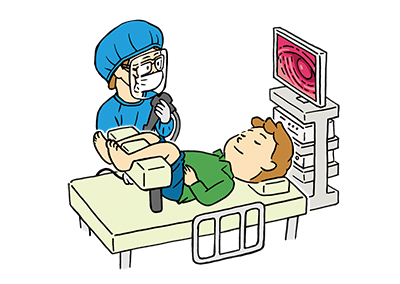 The lower leg placement stand (hereinafter called footstool) on the bed is devised to have a rotating function, to ascend, and descend. An examining doctor can secure a large operating field during colonoscopy even if the patient is in a side-lying position or is supine, regardless of patients' differing physiques2) 4) 5). Since the patient's posture is stabilized with the use of the footstool, the examining physician has improved operability of the colonoscope, and it is now easier to examine and treat2). It was found that the exam is also finished faster4). As well, with the use of the footstool, patients reported less negative experiences and the examination has improved, according to attitude surveys2) 4).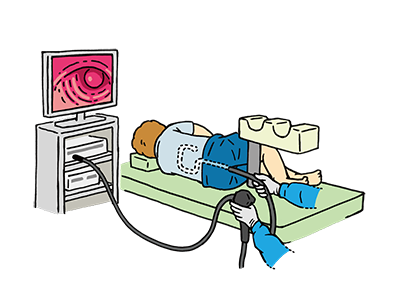 Even when the upper and lower endoscopic examination is carried out under sedation, the footstool gently supports the lower leg so that the medical staff do not need to hold down the patient's foot to suppress it,2) 4) 5). As the footstool has come to support posture conversion, medical staff can concentrate on nursing patients and helping inspectors. Thanks to this, the stress of medical staff has been relieved, according to surveys2) 4) 5). This bed is also equipped with bed rails so that medical staff can safely follow up during and after the examination5).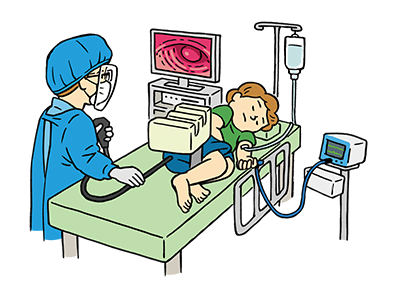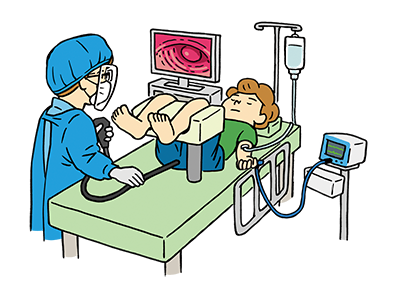 By using this footstool, you can prevent a decrease in blood pressure due to sedation because the resulting posture lifts both the lower limbs onto the back. Moreover, there is also the efficacy in that it has become easier for the inspector to insert the colonoscopy by using an assistant's hand pressure because the tightness of the patient's abdomen was reduced through use of the footstool.
It is easy to see that this bed is indispensable for endoscopic examinations that can be received with more security, safety, and comfort, but with less pain.
If you remove the footstool and close the lid, it changes to an endoscope stretcher 5) 6). You can use it as such for EGD (esophagogastroduodenoscopy) inspection. With no risk of falling from the stretcher using the bed rails, you can move to the recovery room as it is with this stretcher and take a good rest after sedative examination.
You can also receive an upper and lower endoscopy using this patented endoscope stretcher at our clinic. For our recovery room we have secured a large space for natural light to enter, and amenities are enriched so that you can relax in comfort.
Our clinic accepts various inquiries regarding the endoscope bed.
Please do not hesitate to contact us as we receive inquiries from patients, doctors, medical staff, medical institutions, wholesalers, and manufacturers, etc. from time to time. The endoscopic bed has been improved to have various features, has been commercialized on the market, and made widely available as medical equipment. There are also many color variations, and prices are also available from inexpensive to more expensive ones. For more information please ask the wholesalers or the following company.
Matsuyoshi Medical Instruments Co., Ltd.; Electric Kaiser for endoscope in the Matsuyoshi Medical Medical Catalog.
Takada bed manufacturing plant; vertical electric MFW type 6)
Adachi Corporation; Unit type of the drawer and high-frequency equipment exhibiting at major conferences.
We would like you to experience the comfort, convenience, and safety of the patented endoscope bed. It is a pleasure to realize an invention that makes the world convenient from the medical field in Japan. We hope you will receive upper and lower endoscopes at our hospital using the latest endoscope stretcher. Furthermore, we hope to contribute to the early detection and early treatment of diseases where they exist, and more than anything, to help you stay healthy.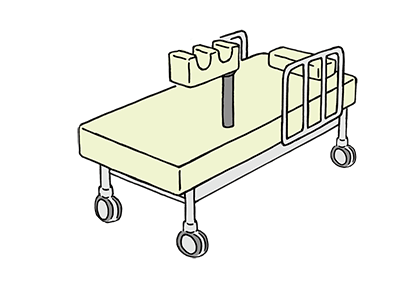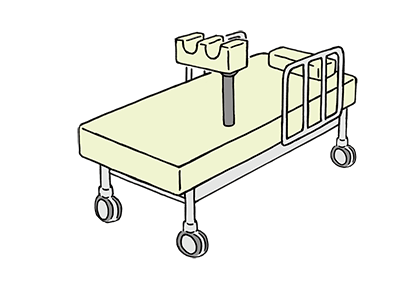 Japanese Patent (Patent No. 5779300).Title of the invention: "Colonoscopy Lower Leg Placement Stand And Colonoscopy Bed", inventor: Nobuhiro Aoki.
General Assembly of the 87th Japan Gastrointestinal Endoscopy Society, Fukuoka International Conference Hall, May 16, 2014. O24-09) "New development of lower leg placement stand for lower endoscopic examination that reduces the burden on doctors, caregivers, and examinees", Nobuhiro Aoki.
DDW 2014, Chicago, May 3, 2014. Sa 1431) "A new invention of Lower Leg Holder for an examinee contributes to safer colonoscopy", Nobuhiro Aoki.
Munehiro Ikeda, Nobuhiro Aoki: A new development of a lower leg placement stand for colonoscopy that can reduce burden on medical staffs. Japan Gastroenterological Endoscopy Technicians Society Proceedings, 2014; 53: 51-52.
Munehiro Ikeda, Nobuhiro Aoki: Development of an endoscopic stretcher that is easy for examinees, assistants, and examiners. Japan Gastroenterological Endoscopy Technicians Society Proceedings, 2015; 55: 115-117.
Front line of Medical industrial hit product; "Takada bed manufacturing plant, Vertical electric motor MFW type TB-1283 for endoscopic bed", September 2016 ''Monthly medical QOL'' No.262, P42-45.
| | |
| --- | --- |
| | |